My entire purpose is to integrate Admob in my app or else my entire hard-work is gone :(
Does google play service works with Processing android app, its mentioned that it will be deprecated from August 2014 ?
Do I need to use the GoogleAdmobAdsSdkAndroid-6.4.1 ?
I've been reading and watching plenty of videos since three days to figure out but I wasn't successful enough. It seems eclipse is behaving
like a bitch.
When I try to give a reference to library project : properties> Android> Add> Is library path. I did add the info and gave ok. After that I added the info in Manifest file.
Information added in manifest file:
    <uses-sdk 
        android:minSdkVersion="10"
        android:targetSdkVersion="18" />

<meta-data
            android:name="com.google.android.gms.version"
            android:value="@integer/google_play_services_version" />

<activity
            android:name="com.google.android.gms.ads.AdActivity"
            android:configChanges="keyboard|keyboardHidden|orientation|screenLayout|uiMode|screenSize|smallestScreenSize"/>

---
Error: No resource found that matches the name. Error: Strings type not allowed
I know why I'm getting this, actually google-play-services_lib project is not adding in my project. I dont why its like that.
I tried to clean the project nothing happened :(
But when I create android project in eclipse it works well. Problem seems to only in importing the Processing Android APP. I know I'm missing or doing something wrong. Is there any generous people her to help me its really grateful.
1) First I imported imported the google-play-service_lib in my workspace. 2) Then, I copied the lib and pasted in my lib folder. 3) I right clicked the google-play-service.jar lib and added that in my build path 4) After that I right clicked the project and went to property, added a library project google-play-service_lib to the project and then I pressed ok. (It seems everything fine)
This is the place I am totally paralysed.
5) When added the info in manifest file I got above two following errors. Then I right click my project folder to verify my property but it shows red symbol. It seems google-play-service_lib is not getting referred.
I set this version also = android:minSdkVersion to 3 nothing happened :( I followed this as bible: but still I'm stuck.
https://developers.google.com/mobile-ads-sdk/docs/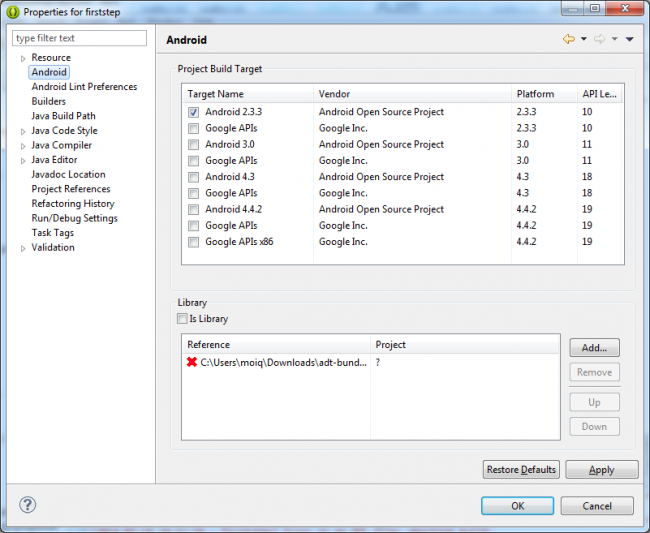 Thanks a lot in advance for your help. I'm a newbie that's why some starting issues :)