outOfMemoryError unsolved
When increasing the number of objects from a class I get always the error: outOfMemory but all memory settings are far behind the allocated memory: In Processing I increased maximum of memory: 3793 mb (I do not work with images or video just a bit of data visualization.)
Using the functions of the FAQ for this kind of error I get the following values . The amount of memory allocated so far (usually the -Xms setting): 64487424 (bytes).
Free memory out of the amount allocated (value above minus used): 52834856 (bytes).
The maximum amount of memory that can eventually be consumed by this application. This is the value set by the Preferences dialog box to increase the memory settings for an application: 3536322560 (bytes).
system: win7 64bit, Java Build 1.8.0_91-b14 (64bit)
a screenshot from console: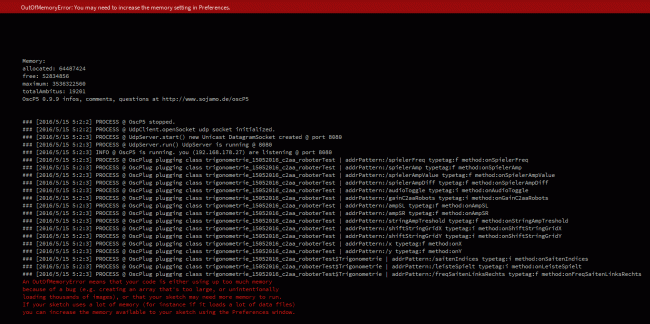 Tagged: