Alert: Too many erros. (XX% scanned).
I have a sketch with 2 files: sketch.js and a second Javascript file for some object constructors and functions. At approximately 74% of length of the Javascript file (line 468 out of 625) the p5 editor gives the alert: Too many errors. (74% scanned)..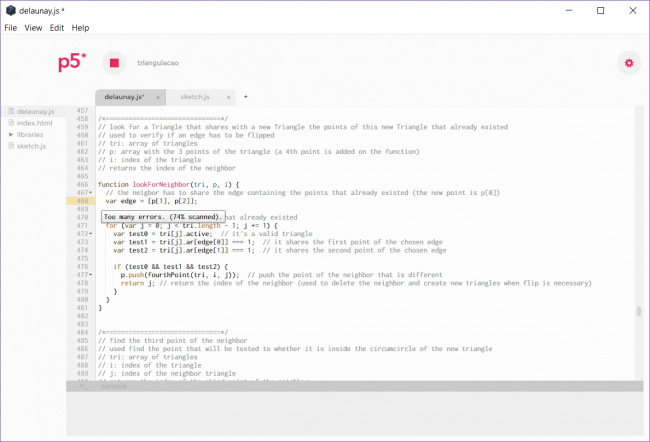 If I try to keep all of the code at sketch.js it gives the same alert (Too many errors. (71% scanned).) at 71% of the file (line 481 out of 675 which isn't the same line of code).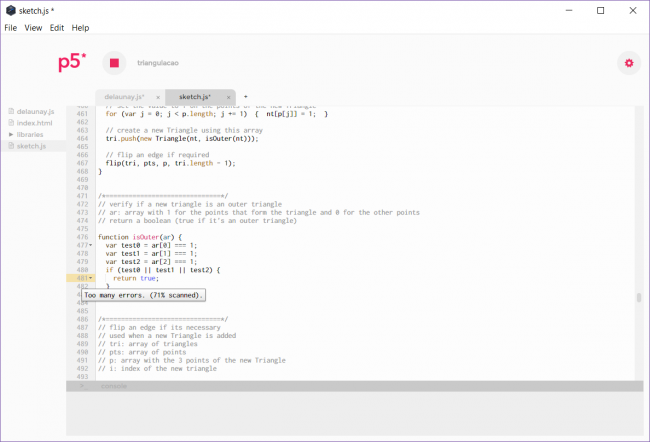 p5 editor doesn't give any other alert or error.
If I use "use strict" this alert disappears and it gives alerts on every line containing a p5.js function, variable or constant.
In any case, the sketch runs as expected.
The console only displays: Uncaught ReferenceError: require is not defined which is present any time I run a p5.js sketch.
I'm using p5 editor Version 0.5.10 on Windows 10.
Does anyone know what can cause this Too many errors. alert?
Tagged: