Hello Processing masters! Newbie here! I would like to ask for your help on this on this particular concern.
There's a particular code from the Processing.org website tutorial on OOP that I am working on regarding a Two Car Objects program. The specific code is written below.
The problem here is that every time that the car passes by each other, the cars have to slow down to 33% of their speed and an orange line must be drawn between the centers of the two cars (to indicate that the drivers are making eye contact). The example of how to do this is shown in this 12-second video -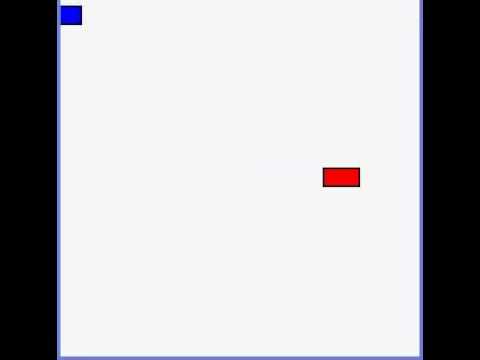 From the original code at the Processing website, I needed to alter the initial speed of the first car from 2 to 3. Now my problems are:
(1) How do I make the cars slow down once they are 4 pixels of each other (slow down to 33% from their original speed);
(2) How do I draw an orange line between the centers of the two cars once they pass by each other (line color to be used has a value of 255 for red and 128 for green).
Your help will be truly appreciated. Thank you again for accommodating me.
Here's the initial code:
myCar1 = new Car(color(255,0,0),0,100,3); 
  myCar2 = new Car(color(0,0,255),0,10,1);
}

void draw() {
  background(255);
  myCar1.drive();
  myCar1.display();
  myCar2.drive();
  myCar2.display();
}

// Even though there are multiple objects, we still only need one class. 
// No matter how many cookies we make, only one cookie cutter is needed.
class Car { 
  color c;
  float xpos;
  float ypos;
  float xspeed;

  // The Constructor is defined with arguments.
  Car(color tempC, float tempXpos, float tempYpos, float tempXspeed) { 
    c = tempC;
    xpos = tempXpos;
    ypos = tempYpos;
    xspeed = tempXspeed;
  }

  void display() {
    stroke(0);
    fill(c);
    rectMode(CENTER);
    rect(xpos,ypos,20,10);
  }

  void drive() {
    xpos = xpos + xspeed;
    if (xpos > width) {
      xpos = 0;
    }
  }
}