Masking a shape with another shape
Is it possible to make something like this (below), where the circular shape masks a rectangular shape? I tried this earlier today but I'm having trouble controlling it myself and wondering if there's a simpler way?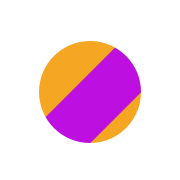 In the end I'm hoping to make a grid of shapes like that where the colors, width of rectangles, and number of rectangles varies. Thanks in advance for your help.
Tagged: