Hello, I'm generating shapes and I have issues exporting them to .obj files via OBJExport, when I build a shape with beginShape(); and vertex(); function only, everything works well and shapes look as exported, when I import them into Blender or Modo.
As soon as I make the shapes curved with bezierVertex(). The exported .obj files become distorted when imported into Blender or Modo.
What am I doing wrong? Is there a better way to get this shape into 3D software? Thank you for your time in advance.
A shape generated in Processing:
Bezier control points set-up:
The same shape after export to .obj and after import into blender: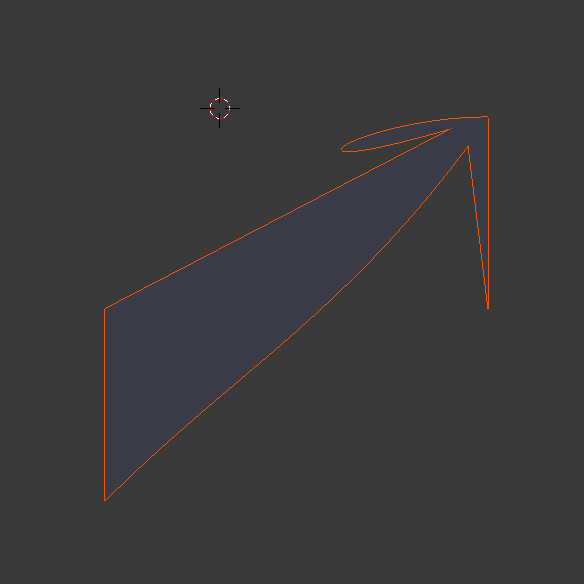 import nervoussystem.obj.*;

// Coordinates of the anchor and control points are set manually for now.
PVector pointA = new PVector(0,-50, 0); 
PVector pointActrl = new PVector(pointA.x + 35,pointA.y ,0);

PVector pointB = new PVector(100, -100, 0);
PVector pointBctrl = new PVector(pointB.x-35, pointB.y+35, 0);

PVector pointC = new PVector(pointB.x, pointB.y+50,0);
PVector pointCctrl = new PVector(pointBctrl.x, pointBctrl.y+45, 0);

PVector pointD = new PVector(0, 0, 0);
PVector pointDctrl = new PVector(pointActrl.x, pointD.y, 0 );

void setup(){ 

  size(400, 400, P3D);

  noFill();
  stroke(0);

  //beginRecord("nervoussystem.obj.OBJExport", "new_world1.obj"); 

  translate(width/2, height/2);

  beginShape(); 
    vertex(pointA.x,pointA.y, pointA.z); // POINT A

    bezierVertex(pointActrl.x, pointActrl.y, pointActrl.z,    pointBctrl.x, pointBctrl.y, pointBctrl.z,     pointB.x, pointB.y, pointB.z); //POINT B

    vertex( pointC.x, pointC.y, pointC.z); // POINT C

    bezierVertex( pointCctrl.x, pointCctrl.y, pointCctrl.z,    pointDctrl.x, pointDctrl.y, pointDctrl.z,     pointD.x, pointD.y, pointD.z); //POINT D  
  endShape(CLOSE); 

  //endRecord();

  ctrl_line(pointB, pointBctrl); //display bezier control points, will not be exported into .obj
  ctrl_line(pointA, pointActrl);
  ctrl_line(pointC, pointCctrl);
  ctrl_line(pointD, pointDctrl);  

}

void draw() {

}

void ctrl_line(PVector anchor, PVector control){

  stroke(255, 0, 0);
  strokeWeight(1);

  line(anchor.x, anchor.y, control.x, control.y);
  fill(255,0,0);
  noStroke();
  ellipse(control.x, control.y, 6, 6);
}