Hello,
I'm porting my sketch over with processing.js
I'm trying to create a slider with text which works great in 2d mode, but when I enable P3D the text begins to offset from the slider depending on where I position it.
Here's how it looks like when it's positioned in the lower left corner: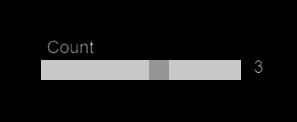 And how it looks like in the upper right corner:

I think this is caused by the camera's perspective, though I don't know why it wouldn't offset both the text and slider equally. Is there any way to fix this?