Layers (a sketch for painting) updated 3 july 2017
A sketch for painting (updated 3 july 2017).
News:
1) Tool: ARGB random
2) Tool: BACKground creator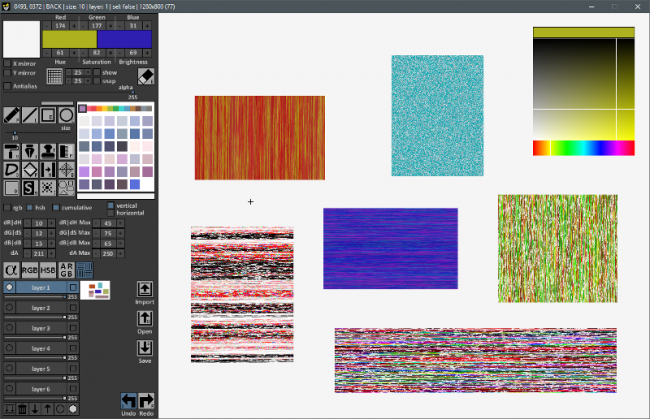 Layers github
'TAB' toggle menu on/off
'P' pencil
'L' Liner
'Q' quad
'C' circle
'E' eraser
'F' fill
Zoom with 'z' (then +/- to change magnify)
'U' Undo (10)
'R' Redo
'X' draw with X mirror
'Y' draw with Y mirror
'[' and ']' -/+ brush size
CTRL-drag on canvas --> change brush size
'Backspace' Clear active layer
'Space' toggle active layer visibility
CTRL-click on layer name to rename it
UP and DOWN arrows change order of layers
LEFT and RIGHT arrows change palette
'1..6' set active layer 1..6
Press SHIFT to pick a color from active layer
CTRL-click on +/- --> +/- 10
ALT-click on +/- --> +/- 100
'G' snap to grid (liner, quad and circle)
'K' constrain quad and circle to square and circumference
'ESC' change cursor color (white/black)
'H' to highlight cursor (for small brush size)
'.' to hide layer control
'I' Ink brush
'T' Stamp brush
'D' DynaDraw (Paul Haeberli 1989)
'M' Mixer brush 'N' Clone brush
'B' web brush
Alpha Paint (paint with alpha)
RGB Paint (paint with R,G,B channel)
HSB Paint (paint with H,S,B channel)
You can lock painted pixels and transparent pixels when paint.
Press '=' to reset values.
See keyboard.pde for all defined shortcuts.
Hints and bugs report are welcome :)
cameyo
p.s. menu and more layers are cpu intensive... then draw with menu off.
Tagged: